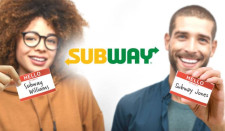 Enter the Subway Name Change Contest for a chance to win a lifetime of Subway sandwiches by legally changing your name to "Subway." Legal assistance available with the Law Offices of Arash Hashemi.
Subway, the global restaurant chain loved by millions, is launching an extraordinary contest that will reward one lucky individual with free Subway sandwiches for life! In an unprecedented move to find their most dedicated fan, Subway is offering an exciting opportunity to win this incredible prize by legally changing their first name to "Subway."
From August 1, 2023, 9 a.m., to August 4, 2023, 11:59 p.m., devoted Subway enthusiasts can participate in the Subway Name Change contest at SubwayNameChange.com. By entering the contest, fans must agree to legally change their first name to "Subway" if selected as the winner. The unique twist adds an element of excitement and has caught the attention of fans worldwide.
The chosen winner, selected through a random drawing on August 7, will receive an enticing reward. Subway will generously cover the costs of the legal name change with a $750 cash prize, along with a staggering $50,000 worth of Subway gift cards to enjoy an endless supply of their favorite sandwiches.
Subway's previous high-stakes promotion, the "Subway Series" lineup, offered free subs for life to those brave enough to get a 12-by-12-inch tattoo promoting the brand. James Kunz, a dedicated Subway fan, proudly sported the massive tattoo and secured a lifetime of sandwiches. Eight others who opted for smaller tattoos also received free subs for a year.
For those considering changing their name but are unsure about the legal process, the Law Offices of Arash Hashemi is available to provide expert assistance. With a track record of success in handling various legal matters, including name changes, we ensure a smooth and efficient process. Changing one's name legally involves specific steps and legal requirements, and it's crucial to navigate this process the correct way.
Should you require assistance with the legal name change process, the Law Offices of Arash Hashemi, stands ready to help. You can call us at (310) 448-1529 or contact us online to schedule a consultation
DISCLAIMER: This press release is for informational purposes only and does not constitute an endorsement or affiliation with Subway or any mentioned entities. The contest and promotions mentioned are subject to the official rules provided by Subway.
Share: