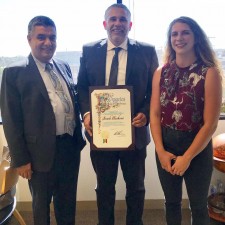 The City of Los Angeles presents a Certificate of Recognition to the Law Offices of Arash Hashemi for their 15 years of service to the community.
LOS ANGELES, September 21, 2018 (Newswire.com) - The office of Councilmember Mike Bonin of the 11th District presented a Certificate of Recognition dated Sept. 10, 2018, to the Law Offices of Arash Hashemi.
The ceremony was held on Sept. 17, 2018, at the Law Offices of Arash Hashemi. The City of Los Angeles was represented by Hannah Levien (Field Deputy, Council District 11). West L.A. Chamber of Commerce President Roozbeh Farahanipour was also present for the ceremony.
"It's a great day for me and my office. It has been an honor serving the citizens of Los Angeles and we will strive to proudly serve the community for many more years to come," said Arash Hashemi.
About the Law Offices of Arash Hashemi
The firm began in 2003 and celebrated their 15-year anniversary on March 1, 2018. It all began in the heart of the San Fernando Valley. A year later, the firm relocated to Century City and in 2014, moved to its current location in West Los Angeles. Throughout the years, the firm has grown steadily, developing broad expertise in the fields of criminal defense, business litigation, personal injury, auto accidents, name changes and Commercial Cannabis License procedures.
"Our anniversary provides us all an opportunity to reflect on the core values and to uphold our continued pledge to providing exemplary legal services to our clients," said Arash Hashemi. "We value our relationships with our clients and the community at large. After a decade-and-a-half of service, we cannot thank our clients enough for their trust and support, and we look forward to many more years of serving."
Source: Law Offices of Arash Hashemi
Share: