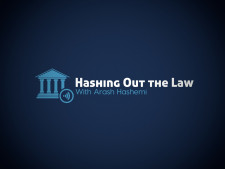 News
•
updated: Jan 17, 2021
The American Conspiracy kicks off season 3 of Hashing Out the Law, with Arash Hashemi.
The start of 2021, saw Season 3 of the podcast Hashing Out the Law making it debut with the episode "The American Conspiracy." The premier episode features guest Michael Polelle, a constitutional law expert and author. The host of Hashing Out the Law, Arash Hashemi, and Michael discuss the transition of power between presidents in the United States and the possible routes the 2nd impeachment of Donald Trump might take, just days before his term comes to an end.
Another topic of conversation is Michael Polelle's novel The Mithras Conspiracy and his newest work coming out this year The American Conspiracy. The latter was written prior to the current events plaguing the transition of power, but the story certainly has a current feel to it.
"I am very excited about our 3rd season" said Arash Hashemi. "This season will feature very special guests, discussing very interesting topics. I am certain the audience will not be disappointed."
About Hashing Out The Law​​
​Hashing Out the Law, with Arash Hashemi, debuted in August of 2018. The first season featured 30 episodes with guests ranging from a Playboy Playmate to the Mayor of Englewood, New Jersey.
Contact:
Law Offices of Arash Hashemi​​
11845 W Olympic Blvd, Suite 520
​Los Angeles, CA 90064
(310) 448-1529
podcast@hashemilaw.com
Share: