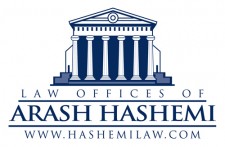 News
•
updated: Mar 25, 2020
The Law Offices of Arash Hashemi is here to support you during Covid-19.
Los Angeles, CA - In these uncertain times surrounding COVID-19, The Law Offices of Arash Hashemi remains open and committed to fiercely defending its clients' constitutional rights.
To conform to the mandatory stay-at-home order:
Office staff is working normal hours, taking calls from home (8:30 a.m. – 5 p.m.).
Attorneys are attending court hearings and monitoring cases for continuances.
The firm is still accepting new clients.
The firm is holding client meetings and consultations over the phone.
While the State of California continues to navigate this unprecedented and difficult situation, the courts remain open for the fundamental purpose of safeguarding constitutional due process. However, Due process rights may be in jeopardy. Reportedly, the Justice Department has asked Congress for Indefinite Detention Powers To Fight Coronavirus.
"Defendants need to be brought in front of a judge within a certain time. If the courts close, those people won't go before a judge, and it would be a violation of their constitutional rights." said Arash Hashemi. "Yes, we need to keep social distancing. However, the Constitution is what the country is based on, and all attorneys have sworn an oath to support it."
The Los Angeles Superior Court issued a General Order on March 23, detailing the court's current procedures:
Access to any and all Los Angeles County Courthouses shall be restricted at all times to Judges, Commissioners, court staff and authorized persons until further notice
Access to any and all court proceedings, including but not limited to arraignments, preliminary hearings, motions, ex partes or trials, shall be limited to parties, attorneys, witnesses and authorized persons until further notice
The full and complete temporary public closure of the Sylmar Juvenile Courthouse for three (3) days
The full and complete public closure of the Beverly Hills, Catalina and Spring Street courthouses, until further notice
The Executive Officer/Clerk of Court may provide telephonic and electronic assistance to assist in those essential services as outlined in the March 17, 2020 and March 19, 2020 Administrative Order of the Presiding Judge re: COVID-19 Pandemic
The suspension of any and all Criminal or Civil jury or non-jury trials per the March 19, 2020 Administrative Order of the Presiding Judge re: COVID-19 Pandemic, including Unlawful Detainer trials, until further notice
In all Criminal cases, a 90-day continuance of any and all status reports and progress reports
The continuance of any and all Criminal Misdemeanor cases with out-of- custody defendants, for 90 days, unless otherwise statutorily required
Bail review hearings under Penal Code section 1275 for any and all Misdemeanor or Felony pretrial detainees will be deemed a priority matter on the court's calendar for the next 60 days
Social distancing of at least six (6) feet shall be enforced in all courthouses and courtrooms, to the extent possible
​For more info please visit the Court Website: LACourt.org
Share: