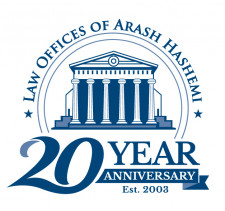 The unveiling of the logo is part of a series of events throughout the year, including social media campaigns, client appreciation events, and charitable initiatives to give back to the community.
Los Angeles, CA - The Law Offices of Arash Hashemi has unveiled a special edition logo to mark its 20th anniversary. The logo represents the firm's commitment to providing exceptional legal services to clients throughout California.
Founded in 2003, the Law Offices of Arash Hashemi has established itself as a leader in criminal defense, self-defense, and name change cases. The firm's success is a testament to its dedication to professionalism, integrity, and client service.
The logo features the number 20 in bold font, symbolizing the firm's 20-year milestone. The firm's name is displayed in a sleek, modern font, demonstrating its commitment to staying current with evolving legal practices.
Arash Hashemi, the founder of the Law Offices of Arash Hashemi, said, "We are incredibly grateful to have reached this milestone. It's been an honor to serve our clients for the past two decades, and we look forward to continuing to provide exceptional legal services for many years to come."
The highlight of the celebrations will be a special ceremony with the West Los Angeles Chamber of Commerce, where the firm will be recognized for its contributions to the legal profession and the community over the past 20 years.
For more information about the Law Offices of Arash Hashemi and its 20th-anniversary celebrations, please visit the firm's website at www.HashemiLaw.com.
Share: