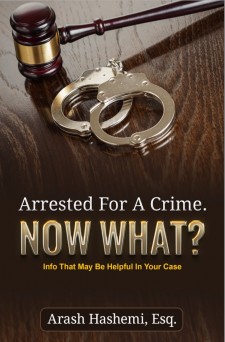 Los Angeles, California, May 2, 2016 (Newswire.com) - Law Offices of Arash Hashemi, a Los Angeles based criminal defense firm established in 2003, announced this week they will release an informative and catch-all book to provide the general public and arrested individuals with useful information, titled: Arrested for a Crime. Now what? ​
Filled with crucial information and tips for individuals facing criminal charges in the State of California, Arrested for a Crime goes through misconceptions about the justice systems, individual rights, the bail process, the process of hiring a private attorney, alternative punishments to jail in California, and the differences between misdemeanors and felonies.
"There is common misconception that only those who are guilty of committing a crime are arrested. In fact, in many cases the wrong person is arrested by law enforcement," said Arash Hashemi. "People think their lives are over when they're accused of committing a crime. Our book goes in-depth about the rights citizens have when arrested, how to navigate the system properly and efficiently, and the differences between crime classifications."
The Law Office of Arash Hashemi is known throughout Los Angeles for helping clients charged with all misdemeanors and felonies. Arash Hashemi has handled a wide variety of cases, ranging from simple traffic tickets and misdemeanors to complicated felonies and high profile cases.
"We want to stress the content of this book is strictly for informational purposes only and does not substitute as legal advice," said Arash Hashemi. "If someone is facing legal issues, whether criminal or civil, they should immediately seek professional legal counsel to get their questions answered."
As a part of the official release, for a limited time individuals can download a free electronic copy of the book by going to HashemiLaw.com. Spread the word, and get the answers needed for navigating the California justice system.
Arrested for a Crime. Now what? official release date is May 5, 2016.​

Source: Law Offices of Arash Hashemi
Share: