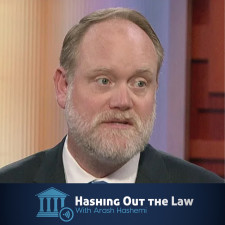 News
•
updated: Jan 18, 2021
The newly elected District Attorney of Los Angeles County, George Gascón, announced that he will eliminate cash bail in all criminal cases. But does he have the power to do so?
On this episode of Hashing Out the Law, our guest Jeff Clayton and Arash Hashemi discuss whether George Gascón can actually eliminate cash bail in Los Angeles County. Jeff explains why Gascón wants to abolish cash bail, and why he doesn't have the power to do so.
Jefferey Clayton is the Executive Director of the American Bail Coalition. He is also a licensed attorney and has worked as the General Counsel for the Professional Bail Agents of Colorado.
About Hashing Out The Law
Hashing Out the Law, with Arash Hashemi, debuted in August of 2018. Each episode features a different guest and topic revolving or related to the law. Now in its 3rd Season, Hashing Out the Law is available on various platforms such as YouTube, Apple Podcasts, Spotify, Amazon Music, Pandora, iHeart Radio, Anchor, etc.
Contact:
Law Offices of Arash Hashemi​​
11845 W Olympic Blvd, Suite 520
​Los Angeles, CA 90064
(310) 448-1529
podcast@hashemilaw.com
Share: